The Nightmare Universe, also known as Earth-43, is an alternate world that features monstrous versions of DC characters.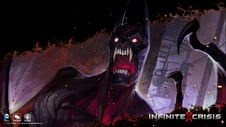 About
Tales of horrors prowling the night were once just legends on this Earth - until the darkness returned. Ancient and terrible powers beyond comprehension awoke and brought with them an army of monsters. In fighting these creatures, some heroes have fallen, twisting into monsters themselves. Heroes and villains have set aside old rivalries and are united in fighting darkness that threatens to engulf their world forever.
Champions
The following is a list of "champions" from this universe currently found in Infinite Crisis.
Ad blocker interference detected!
Wikia is a free-to-use site that makes money from advertising. We have a modified experience for viewers using ad blockers

Wikia is not accessible if you've made further modifications. Remove the custom ad blocker rule(s) and the page will load as expected.