Home
Talk

4
322pages on
this wiki
Welcome to the Infinite Crisis Wiki
Infinite Crisis is a free-to-play MOBA set in the DC Comics universe for the PC. It features DC characters from several different universes and several unique additions to the traditional MOBA formula. Learn more about Infinite Crisis here.
While growing up, Kendra Saunders' father was murdered by a corrupt police officer. She became a police officer herself in an attempt to help people from inside the system but soon felt that she was being held back by the rules and regulations of the job.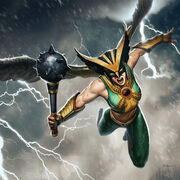 While on yet another disciplinary suspension for breaking the rules, she encountered Hawkman. The hero told her that she was a reincarnated Egyptian princess and that the two had been both heroes and lovers in their previous lives. She thought him insane and asked to be left alone. Surprised that she did not remember him, he agreed to leave, but insisted she accept a mace and flight harness, artifacts of her past life. She took the items just to be rid of him.
However, as time passed, she came to the realization that a hero could do things a police officer never could. They could work beyond the rules and do more to help people. She decided to put the equipment Hawkman had left to good use and became the heroine known as "Hawkgirl."
Read More: Hawkgirl
Please feel free to contribute anyway you can, but please do not vandalize. If you need help editing contact our admins. 
If you do not like using the visual editor, change your preferences.
Please expand our Stubs as they are lacking information.
If you would like to create a new article, just type the name of the article in the box and press "Create a new article". Please make the article relevant to
Infinite Crisis
.
What is your favorite Stolen Power?
For previous polls, check out the Poll Archive.
Create blog post
Blogs
It's been ages since I last was super into Infinite Crisis (I guess you could say... it felt like last year ;)) I've finally managed to find time out of my unbusy schedule to play this game and I played as Atomic Green Lantern and I have to say I fell in love with this champion. I've played my best…

Read more >


 DC Heroes remains one of my favorite RPGs. Long out of print and more RPGs {Superhero & others) have come and gone than i can hope to count, yet i love it as much as i did when i first got it and started running Adventures with it. If not More!

 Sadly, being out of print has its up and downs. I …


Read more >
See more >
Injustice: Gods Among Us Wiki
DC Database
Frontline Commando Wiki
DC Universe Online Wiki