Home
Talk

3
270pages on
this wiki
Welcome to the Infinite Crisis Wiki
Infinite Crisis is a free-to-play MOBA set in the DC Comics universe for the PC. It features DC characters from several different universes and several unique additions to the traditional MOBA formula. Learn more about Infinite Crisis here.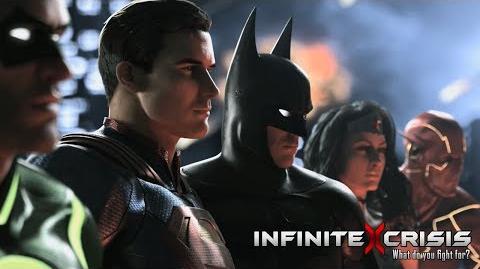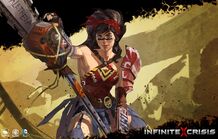 With unwavering hope and a chainsaw of justice, Atomic Wonder Woman carves a path to victory.
The Cold War reaches full tilt, and Earth's Superpowers hold their fingers over the button. Wonder Woman's mission to forge peace is shattered by an object from space. It explodes above a small town in Kansas, sparking World War III, and no city or nation escapes from the nuclear firestorm. In the aftermath worldwide devastation, Wonder Woman realizes her mission is now one of restoration.
Read More: Atomic Wonder Woman
Please feel free to contribute anyway you can, but please do not vandalize. If you need help editing contact our admins. 
If you do not like using th visual editor, change your preferences.
Please expand our Stubs as they are lacking information.
If you would like to create a new article, just type the name of the article in the box and press "Create a new article". Please make the article relevant to
Infinite Crisis
.
Who is your favorite Bruiser?
For previous polls, check out the Poll Archive.
Create blog post
I can't be the only one bugged by the fact that the Emergent Leader (which is Robin's ultimate) badge uses the Aquaman image. Or the Suit Up badge uses the Cyborg image.

Read more >

Dear Editor,

If you are new to the wiki, be sure to check out our editing section on the main page, as well as the Advice Box in the forum. The Advice Box the a section of the forum used to suggest additions to the wiki such as badges, pages that need to be deleted, etc. Also, all champion profile v…

Read more >
See more >
Injustice: Gods Among Us Wiki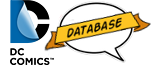 DC Database

Frontline Commando Wiki

DC Universe Online Wiki