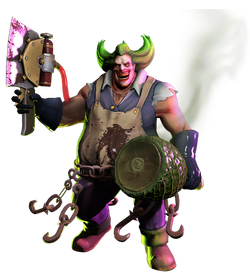 The Gaslight Universe, also known as Earth-19, is an alternate universe that takes place around 1889 and is visually inspired by the Steampunk aesthetic.
About
The Victorian era has swept the Earth and a prosperous Age of Invention has revolutionized society through powerful steam technology, and this amazing progress is only the beginning. Heroes and villains have begun to emerge from all corners of society, and with them bring new sources of power and problems far stranger than steam and gas lights.
Champions
The following is a list of "champions" from this universe currently found in Infinite Crisis.
Ad blocker interference detected!
Wikia is a free-to-use site that makes money from advertising. We have a modified experience for viewers using ad blockers

Wikia is not accessible if you've made further modifications. Remove the custom ad blocker rule(s) and the page will load as expected.