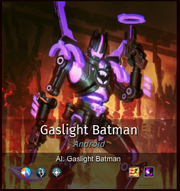 Gaslight Batman is the first champion players can control.
Gaslight Batman, along with Mecha Wonder Woman, both Marksmen, are the only champions classified as Hybrid Damage Champions.
In the comic book version, Gaslight Batman does not use Sonic Blasters.
Like his counterparts, his real identity is Bruce Wayne, and has a butler named Alfred.
His parents were murdered in Monarch Hotel.
When controlled by the AI in the Crime Alley map, he uses a unique Android costume. This was later released as a third-day log-in reward.
Gaslight Batman is possibly inspired by the League of Legends champion Ezreal, another hybrid damage marksman with a very similar kit (including a passive that encourages weaving in abilities to gain attack speed and a global pass-through ultimate).
Ad blocker interference detected!
Wikia is a free-to-use site that makes money from advertising. We have a modified experience for viewers using ad blockers

Wikia is not accessible if you've made further modifications. Remove the custom ad blocker rule(s) and the page will load as expected.